"I've been storywalking a couple years and absolutely LOVE it. Storywalking keeps me in inquiry, reminds me to create everyday, and leaves me with insights I never would have considered. " Annette
Hey you! Good to see you.
I'm thrilled to have you strolling down this page, thinking about storywalking with us this quarter.
If you're an old hand (old foot?) at storywalking, go ahead and hop skip further down the page. But if you're new, let's stop and chat for a minute...
If you're totally "who the heck is Jena" level new to my work I recommend you start by grabbing my complimentary Welcome Package and watch the opening prompts of the Wide Awake storywalk to get the feel for how I take us down a fairy tale path.
As a general introduction, Storywalking is a unique and delightful art and inquiry process I developed that uses myths, fables and fairytales as a roadmap for epic inner journeys. A thick papered journal is our primary tool. And playful engaging art is the way we catalyze personal self reflection and document our shifts and epiphanies.

My specialty is prompts that are powerful, playful and quick - designed to hurdle jump over your inner critic and into new information. Instead of hours and hours of instructions, the daily videos are under 5 minutes -as short as a good song- so you get inspired and right to your journal.

Supplies are limited and prompts are diverse with an emphasis on collage, doodling, writing. And yes: totally accessible for all skill levels.

This particular class will be delivered as ten one week long chapters. Over the course of each week you will build up layers in your journal and deepen into the inquiries evoked by the story.  Best part? The questions and themes from the story will bring up information totally unique to you. Messages hand culled by your own intuition. And when we walk together, wow we can really appreciate how very different, how incredibly customized it can be for each person!
Starting November 6 you are invited to join the Storywalking sisterhood as we go tromping and stomping into a wintery Bulgarian tale...

The Girl and the Winter Whirlwinds
If you take a moment to read the story through you might think "huh? this one?" It seems a bit saccharine, especially after hard hitting stories we've traveled recently like Inanna's descent into the underworld or the intense tale of the Red Bead Woman.  Except...

Poetry. Image. Symbols. The reason I ADORE walking through myths and fairytales is, same as dreams, every single  piece of a story is a metaphor pointing our intuition to a reality.
And being human pretty much always involves a lot of muttering about STUPID MOUNTAINS.  Life well lived requires that we continually set out on a dangerous trek to awaken the slumbering parts of ourselves.
What is a vital alive magic that you've lost track of? What important part of you sleeps in a hard to reach place? What's the thing that needs to be tickled awake so that you can have an experience of Spring in your inner worlds?
Okay...that's not so saccharine, yeah?
👣♥️👣
"But the journey was long. It was dangerous. It was filled with icy caverns and winter whirlwinds that could easily sweep the most experienced climbers right off the mountainside."

"I'll go," said the young girl. "I may be small, but I am nimble as a goat and brave enough to tame the winter whirlwinds."
 👣♥️👣
We've all got our own version of whirlwinds. Maybe you spin in self doubt. Maybe you worry about what others think. Maybe it's the news that really sets you off. If we're on a journey to awaken the vital parts of us, it's guaranteed that we'll encounter whirling swirling anxiety. Gatekeepers and distractions. Dementors of doom.
Stupid Whirlwinds
No one loves whirlwinds but facing them is necessary. And not just in theory. You have to face YOUR specific whirlwinds that try to sweep you off the mountainside.
What I love about storywalks is that we always find out surprise information when we step onto the page. So even if you think you know your whirlwinds already, I guarantee that there will be a fresh understandings by the time we flip the page.
Stupid Mountains. Stupid Whirlwinds. Necessary. Vital. But that's not really why I picked this story.. No it was this line:
Her winter clothing was tattered and worn, so her friends dressed her in their warmest mittens, coats, and hats.
  👣♥️👣
The real medicine of this tale is that every person and creature within her small community is related to as family. And what seems impossible to surmount and face on our own is possible when we walk together. When we storywalk together, another person's quote will be just the warm hat you need. Another person's bravery on the page will warm your cheeks and keep you going. And the characters that show up on (and off!) the page will make sure that you don't fall under any spells.
May we all wake up with a laugh like Father Frost.
All that might have gotten you thinking.  What are my sleeping parts? What are my whirlwinds? But I just want to remind you, you don't need to figure out any of it...the pages will show you the way! If you missed the most recent Puss in Boots walks, here are some  joyful epiphany laden moments on the page...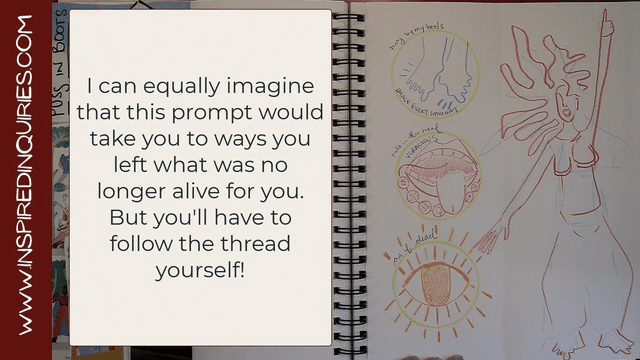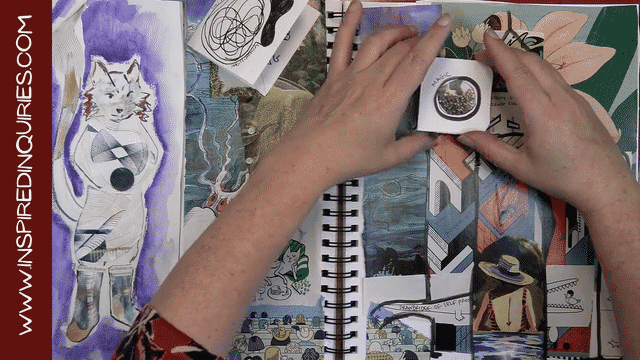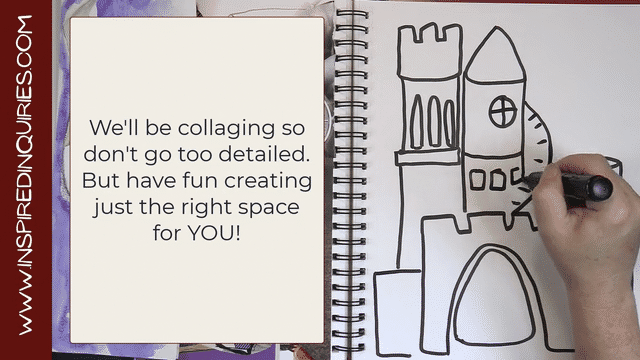 Registering for this Story Walk gives you and a guest of your choice permanent access to Winter Whirlwinds as it unfolds and forever afterward.

I love when folks bring a friend from the "real world" so you can experience the journey together. But if you don't have anyone you can invite who loves this kind of thing... you need new friends. 😂 Seriously though, you do...AND you'll meet them leaning into our fantastic and supportive Storywalking community. So just hop in!

The course will be created as we go with a video prompt delivered to your email every day. Instructions are peppy & personal and include experimenting with collage, coloring, doodling, writing.  Storywalking is doable in an hour or two a week and is perfect for all skill levels. Keep up with the playful prompts over the 10 weeks or go along at your own pace.
This style of art journaling can open the voice of the intuition in an effortless manner - bringing spontaneous epiphanies and surprising momentum. Sometimes it points to subtle shifts of perception. Sometimes it points our future into a whole new direction. Your task is simply to show up with pen, scissors, glue. The story will take care of the rest.
Frequently Asked Questions
Do I need to be an experienced artist?
What supplies will I need to gather?
What if I live somewhere with a crazy exchange rate? Or I'm on a fixed income? Do you have scholarship options?
What's the deal with the Guest Pass?
Grab your Mittens - Let's Go!
Your purchase gives you + one guest access to the series as it emerges and permanent access once it's complete!
Money tight? Wicked exchange rate? Use code TWENTY for 20% off or even FORTY for 40% off. We're thrilled to have you with us.
$225 in one or four payments
"I am in awe of the  journey I have just completed. I felt profoundly and tenderly held in the container of this Storywalk which facilitated breakthrough realizations and much-needed life change for me. The video questions and prompts lovingly pierced through my old stories and opened awareness to my own beautiful, authentic, life-affirming truth. And Jena's support and feedback in the community forum was very insightful, catalyzing, honoring and championing of my process. I highly recommend her work!" -Veneda

"Nothing has been more valuable to me during these recent difficult times than Jena's Storywalking processes. In them I have found the key to seeking that which is deep within my psyche through the following of the deep mystical magic of ancient stories. I must admit to being somewhat dense - under normal conditions when I read an old fairytale or myth I really don't understand how all the creatures in the story represent different parts of my own psyche, but through the collaging and art practices led by Jena's brilliant work we are offered a simple and often whimsical key to capturing that deeper understanding of ourselves. My own Storywalking practice has become the way I begin most days after arising - it's a way for me to get in touch with the deeper parts of Self - the soul - each morning, bring me to center, and revelations and epiphanies abound. I have started to keep a journal of my walking alongside the collaging process. Nothing is more magical than going back and reading all the sound advice and revelations given to myself by my Self through this magical practice. I cannot recommend this practice highly enough --- if you are interested in contacting your deep inner being in an artistic way, do a Storywalk! I have become an addict." -Squidge
"Jenafer Joy's Approach is by far the lightest and the deepest method I have experienced. She leads gently but firmly, engaging even my grumpiest parts in the game. A rare gift! Solo divers are welcome and secure a safe space of private witnessing with her gentle, witty guidance. But she also maintains group energy incredibly well, strengthening synergies and supporting each one of us as if we were truly unique to her and in the world. I have been relying on Jenafer for my own balance for quite some time now, and she keeps surprising me, with her creativity, with her amazing cultural, spiritual & psychological information, and also with her true generosity of spirit." - Anna
It would be ridiculous to finish this invitation without underlining the absolutely phenomenal Storywalking Sisterhood.
While you can certainly follow the videos and have a fantastic journey on your own, live classes have a true boon of community. 
Like the underground mycelial network of mushrooms, the women who lean into themselves while also supporting each other in these journeys is beyond powerful. 
We love all our seasoned storywalkers and it's so true that those who step onto the path choose to walk again and again! Come be a part of it.